Picasso Dog Groomery
---
Tak Sekimoto
Picasso Dog Groomery opened in August 2008. Located in the West Plaza hub at 45th Street and State Line Road in Kansas City, MO.
Formerly of Los Angeles, Owner and Certified Groomer Tak Sekimoto moved to Coleman Highlands in 2006 and spent two years as a certified groomer at Brookside Barkery in Kansas City and Olathe.
---
Why Picasso?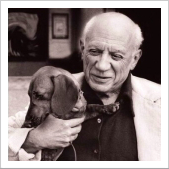 Tak named the shop after the world renowned Spanish artist Pablo Picasso. He was also known for his love for dogs. And Yes, "Good Grooming is an Art", indeed.
---
The Style
Tak specializes in traditional breed standards to custom cuts. From show cuts' for dogs that compete for ribbons and awards to trendy & chic lion cuts with mohawks to compliment a pet's lifestyle, Tak knows the style.
---
And Much More
Picasso Dog Groomery features unique pet products such as custom collars with semi-precious beads and one of a kind toys and apparel for dogs from Japan.
Wonderful and healthy Picasso Dog Groomery original, fresh homemade ground bison or blueberry gluten free dog biscuits are also available in shop.